10 Reasons to Attend TEDxWinnipeg 2019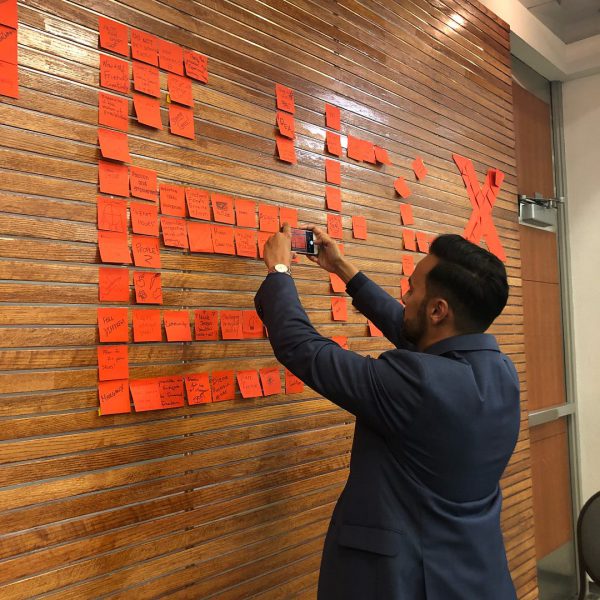 Dr. Rehman Y. Abdulrehman at TEDxWinnipeg 2018.
Every year, creative and curious processionals come together for TEDxWinnipeg, an annual event dedicated to spreading new ideas and fostering discussion and change in our community.
TEDxWinnipeg is a unique opportunity for people from all walks of life to come together to explore the boundaries of creativity, personal expression and identity, technology, science, and more. TEDxWinnipeg events connect you with innovators from a variety of disciplines in a fun and laid-back environment that's perfect for learning, sharing, and growth.
This year's TEDxWinnipeg will be held on June 26, 2019 at the Royal Manitoba Theatre Centre-John Hirsch Mainstage. If you're looking for a way to invest in your personal (or professional!) development, here are 10 reasons why you can't afford to ignore the benefits of attending this year's TEDxWinnipeg event:
1. Get Actionable Takeaways
TEDxWinnipeg isn't just about ideas and creative discussion; it's also about applicable learning, too!
Speaker sessions explore important topics, like Dr. Andrea Kraj's 2017 talk "Smart Cities Begin With You" where she shared strategies help communities become "smart" communities, or Darrick Baxter's 2015 talk about how technology is helping preserve Indigenous languages.
Every talk ends with the speaker making an "ask" of the audience, which means you'll come away with a host of new ideas and examples of how to implement them in your own life.
2. Get Inspired
The focus of each TEDxWinnipeg event is to shed a (literal) spotlight on some of the most forward-thinking ideas in our community.
Each talk during our full-day event will focus on a different idea or concept and will explore it in-depth, giving you lots of time to take in the new information you've learned and consider how to apply it to your own daily life.
3. Experience Stress-Free Networking
Networking and getting to know your fellow attendees is a huge part of the TEDxWinnipeg experience, so you can expect a lot of interactive sessions in our Idea Lounge.
Here, you can grab a snack in-between talks, discuss business ideas and opportunities our sponsors, and play fun games with other attendees to get the conversation (and ideas!) flowing.
4. Connect With Experts and Creatives
TEDxWinnipeg speakers are selected from all walks of life, but are all experts in their creative or professional fields in one way or another.
Whether that's discussing how future generations of technology will impact our sense of identity, to uncovering the changes that occur in the human body, there are always lots of opportunities to hear from experts and thought leaders each year.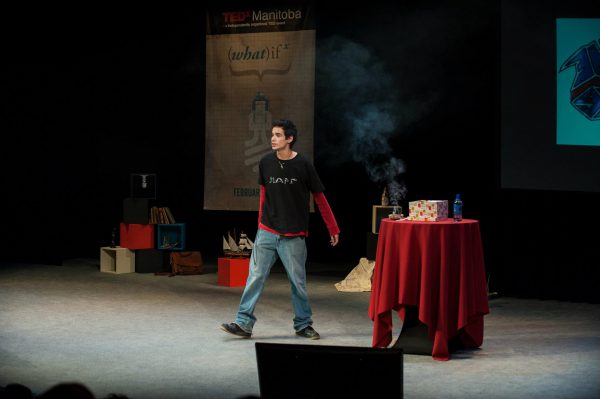 Michael Redhead Champagne onstage way back at at TEDxWinnipeg 2012!
5. Get Interactive With Our Speakers
Not only are our speakers available during the day to chat with you and share ideas, but we also host roundtable discussions in-between sessions so you can ask follow-up questions.
The goal behind these discussions is to inspire attendees to take notes and think critically while they're listening to each talk, and then to share those ideas with others.
This gives our speakers a chance to elaborate on certain topics, themes, or ideas from their talk, and provides attendees with a chance enhance their learning together in a more meaningful way.
6. Meet People Across Industries
One of the challenges of our day-to-day existence is that it can be hard to meet people from other industries and walks of life, but TEDxWinnipeg offers the perfect opportunity to make some new friends throughout the day.
Some ways you can engage with the other attendees include:
Spending time in the Idea Lounge listening to others discuss their ideas.

Sitting next to someone you've never met before at lunch.

Participating in our "Attendee Bingo" activity (among others) each year!

A good, old-fashioned "hello!" – our attendees are always welcoming and looking to connect!
7. Attend a Convenient and Cost-Effective Event
It can be hard to find time to attend out-of-town conferences, but TEDxWinnipeg is a conference dedicated to sharing ideas right here in Winnipeg.
This year's event, which will be at the MTC Mainstage, is conveniently located in the heart of Winnipeg. There's parking in the area and multiple bus routes nearby, which means if you want to stop by any of the local businesses in the area for a snack or a pint to unwind after a busy day of learning, you can easily get home.
Even better: TEDxWinnipeg is totally affordable! Early Bird tickets are $45, but even after ticket prices go up in May you only have to spend an additional $20 ($65 total) to spend the day surrounded by some of our city's most passionate and creative thinkers.
8. Beat Industry-Event Fatigue
TEDxWinnipeg offers some of the best single-day learning, networking, and idea sharing available in Winnipeg.
Unlike industry-specific events where everyone is in the same role, series of companies, or industry, TEDxWinnipeg offers our attendees an opportunity to attend an event that's alive with interdisciplinary exchanges between passionate and creative people.
By its nature, TEDxWinnipeg is the type of event that brings people together from various groups and backgrounds, and their creative exchanges produces an electric environments that pops with activity and excitement.  
9. Break Out of Your Comfort Zone
Whether that's being presented with a new idea or topic, or saying "hi!" to a stranger in the Idea Lounge during one of the breaks, TEDxWinnipeg is the perfect time to stretch the limits of your comfort zone.
Every year we strive to create an event that is welcoming, friendly, and accessible so you can shake off any nervousness and spend your day learning, growing, sharing ideas, and making new friends and connections.
10. Support Your Friends and Neighbours
We focus on attracting as much local talent to the TEDxWinnipeg stage as possible, which means each year's lineup is comprised of lots of familiar faces!
Our goal is to highlight passionate people from our community whose ideas, actions, and unique life experiences help make Winnipeg a more vibrant and exciting place to live.
From the latest in vertical farming technologies, to considering how tourism affects the identities of Indigenous peoples, our speakers work hard to make our community a better place, and there's no better way to support them than to register to attend TEDxWinnipeg 2019.
Why are you attending TEDxWinnipeg 2019? Tell us by tweeting at us or posting on our Facebook page!